2019-2020 College Catalog
[ARCHIVED CATALOG]
Medical Laboratory Technician, A.S.
---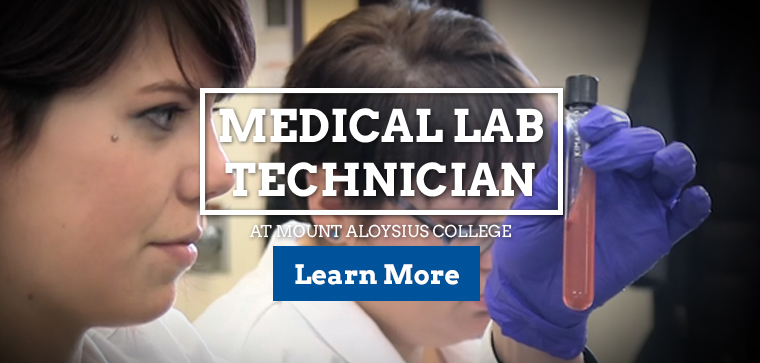 Program Coordinator - Ms. Kathleen P. Hoyne, M.S., MT (AMT)
Consistent with the philosophy of the College, the Medical Laboratory Technician curriculum combines science and technical courses with a liberal arts foundation to prepare graduates for entry into the field of medical laboratory technology. The student-focused curriculum provides an emphasis on liberal arts studies and includes courses in general and medical laboratory sciences and a structured clinical practicum.
Medical Laboratory Technicians perform routine laboratory analyses which aid physicians by providing information used for the diagnosis and treatment of diseases. The program offers the necessary academic and clinical instruction that prepares students for employment as members of the healthcare delivery team. Graduates may find employment in hospital laboratories, physician offices, private/reference laboratories, pharmaceutical companies, or industrial laboratories.
An integral part of the program is a 25-week clinical rotation at an affiliated hospital laboratory. Students receive hands on experience working with certified technicians and technologists in the clinical laboratory setting.
Upon completion of the Associate Degree Medical Laboratory Technician Program, the graduates will:
have a solid grounding in liberal arts that incorporates the general sciences including human biology, chemistry and microbiology;
have an in-depth knowledge of the clinical responsibilities of a medical laboratory technician to include: medical ethics, effective communication, infection control, safety, specimen collection, specimen processing, diagnostic testing and basic patient care;
have a working knowledge of laboratory testing and equipment operations to include: test kits, automatic analyzers, microscopes, autoclave, centrifuge, point of care testing analyzers and spectrophotometer;
be able to perform invasive and non-invasive specimen collection procedures and perform laboratory analysis that provides patient diagnostic and treatment information to clinicians;
develop a commitment to life-long learning and the pursuit of personal and professional growth through the participation in educational and professional activities; and
be able to successfully pass the Board of Registry certification examination given by the American Society of Clinical Pathologists and secure an entry level position as a Medical Laboratory Technician.
Specific Program Requirements
Prerequisites and requirements for entering the Associate Degree Medical Laboratory Technician Program: