2019-2020 College Catalog
[ARCHIVED CATALOG]
Information Technology, B.S.
---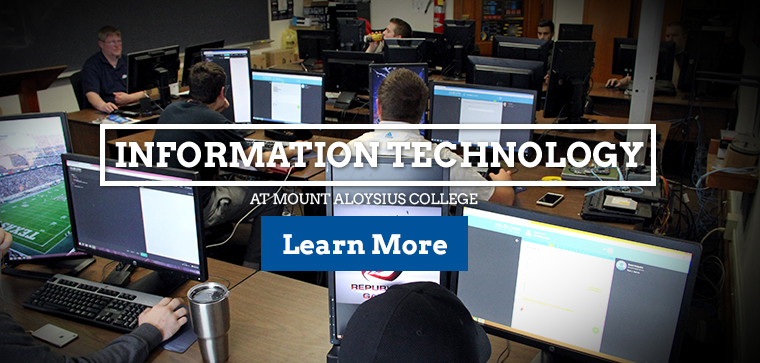 Department Chairperson - Kristi J. Smith
The Bachelor of Science in Information Technology (IT) Degree at Mount Aloysius College is designed to provide a strong foundation in networking, programming, database management and related areas. The IT program is focused on the acquisition of theory and technical competencies associated with the IT profession. The curriculum presents a fundamental knowledge of both the function and development of information systems by providing a broad range of IT coursework, including vendor-certification training and hands-on courses. The program design is based on present and probable future characteristics of the information technology professions, emphasizing the essential knowledge, skill, and professional attitude needed by beginning professionals in the fields of web development, network and systems administration, programming, computer support, systems analysis and database administration. In addition, all students are encouraged to pursue a minor in the discipline of their choice.
The following content labels and related descriptions delineate the areas of development expected as a result of completing the program:
Knowledge Base in Information Technology - Students will demonstrate breadth and depth of fundamental knowledge and comprehension of the major concepts, theoretical perspectives, historical trends, and empirical findings to discuss how technical principles apply to information technology problems;
Scientific Inquiry and Critical Thinking - Students will demonstrate skills in interpreting behavior and as well as utilizing the scientific method draw conclusions about technological phenomena, and solve problems;
Ethical and Social Responsibility in a Diverse World - Students will demonstrate familiarity with the formal regulations that govern professional ethics in information technology, and explain values that will contribute to positive outcomes in personal and professional settings and in building a society responsive to multicultural and global concerns;
Communication - Students will demonstrate the ability to write a cogent scientific argument, present information in a professional manner, engage in discussion of technological concepts, and express their own ideas with clarity, as well as produce original programming source code and / or other technical projects; and
Professional Development - Students will be able to demonstrate the application of information technology-specific content and skills, project-management skills, teamwork skills, and career preparation to succeed in post baccalaureate employment, graduate school, or professional school.
The dual Bachelor of Science/Masters of Business Administration (4+1) program is an option for especially well qualified students. This special program makes it possible to earn both the Bachelor of Science and Master of Business Administration degrees in less time than normally would be required to complete both. This option is available for students in the undergraduate Accounting, Business Administration and Information Technology programs. Interested students should contact their undergraduate department chair or academic advisor no later than the sophomore year for information. Typically, students take one graduate level MBA course during the fall and spring of their senior year. Students then have their Bachelor of Science degrees conferred upon completion of all undergraduate degree requirements. Students seamlessly matriculate into the graduate degree the following semester. Upon completion of 30 additional MBA credits, students will have their Master of Business Administration degree conferred.