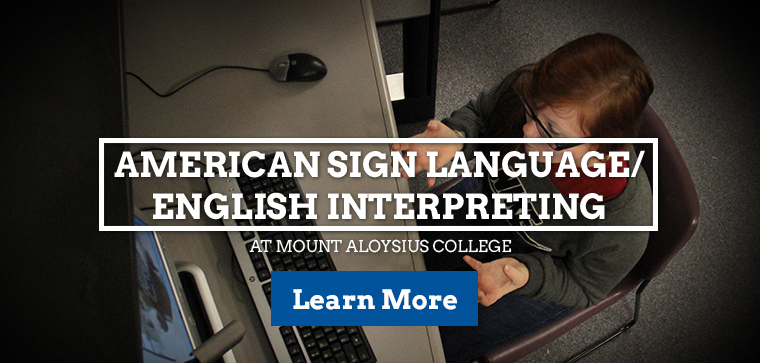 Department Chairperson - Dr. Sara Rutledge
Program Coordinator - Ms. Lori Milcic
Interpreters provide an essential and critical communication service between individuals who do not use the same language. Professional interpreters are highly skilled in a variety of areas from objectivity and judgment to message analysis and language proficiency. They must be able to understand another person's message, including the inflections and intent while consecutively or simultaneously rendering the same message into another language. ASL/English interpreters must have fluency in both English and ASL with the flexibility to adapt to the mode and register of communication preferred by both their deaf and hearing consumers. Being able to articulate, appropriate English and ASL is a necessity of these interpreters. Also, interpreters must understand the cultures of their clients and apply that knowledge to promote the most effective crosscultural communications.
Bachelor of Arts Degree American Sign Language/English Interpreting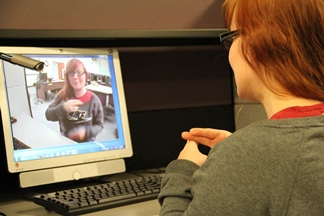 Mount Aloysius College has a long history of educating quality ASL/English Interpreters. At the Mount, students learn in a bilingual/bicultural environment that promotes cultural equality, linguistic equivalence, and ethical principles and values. Upon completion of this program, graduates will earn a Bachelor of Arts Degree in American Sign Language/English Interpreting. Graduates will be prepared to sit for the national certification written examination and start working as interpreters in a variety of settings such as business, medical, educational, religious. The program curriculum delivers theoretical, practical, and service-learning instruction. The dedicated laboratory for Interpreting majors offers recording and digital analysis of student's language learning and interpretation work. A critical part of a college education is the liberal arts component. The liberal arts education offers students an understanding and appreciation of themselves; their history and culture, the history and culture of humanity, the principles and impact of mathematics, science, and technology; and the principles of effective communication.
Graduates of this program will demonstrate attributes that underlie competent professional interpreting practice:
Demonstrate language competency in American Sign Language and language proficiency in English;
Demonstrate cultural competence and multicultural sensitivities of both hearing and deaf cultures;
Exercise judgment, employ critical thinking, and utilize the knowledge they've gained from the code of professional conduct when making professional decisions;
Analyze the effectiveness of their interpretations by applying contemporary theories of performance assessment, noting areas for improvement;
Demonstrate critical analysis of current literature related to the discipline of interpreting;
Produce accurate and reliable interpretations in both English and ASL; and
Work effectively and collegially with other members involved with the profession of Interpreting.