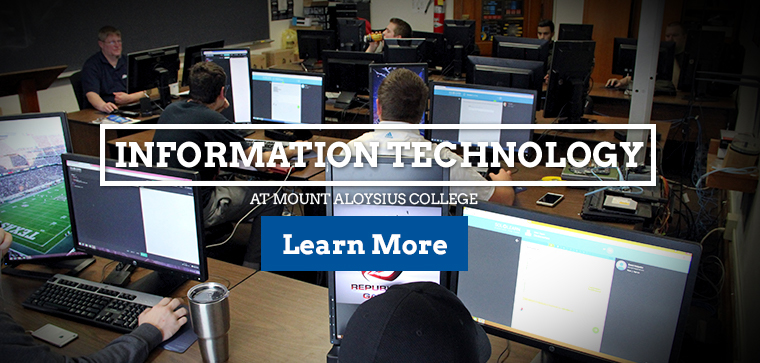 Department Chairperson - Ms. Kristi J. Smith
The Bachelor of Science in Information Technology (IT) Degree at Mount Aloysius College is designed to provide a strong foundation in networking, programming, database management and related areas. The IT program is focused on the acquisition of theory and technical competencies associated with the IT profession. The curriculum presents a fundamental knowledge of both the function and development of information systems by providing a broad range of IT coursework, including vendor-certification training and hands-on courses. The program design is based on present and probable future characteristics of the information technology professions, emphasizing the essential knowledge, skill, and professional attitude needed by beginning professionals in the fields of web development, network and systems administration, programming, computer support, systems analysis and database administration. In addition, all students are encouraged to pursue a minor in the discipline of their choice.
The following content labels and related descriptions delineate the areas of development expected as a result of completing the program:
Knowledge Base in Information Technology - Students will demonstrate knowledge of core computing concepts.
Critical Thinking - Students will demonstrate critical thinking and analytical reasoning to solve information technology problems.
Ethical and Social Responsibility - Students will demonstrate familiarity with ethical and global impacts of technology on society.
Communication - Students will demonstrate the ability to communicate effectively and professionally and to collaborate within a team setting.
Professional experience: Students will gain real-world experience using current software, industry tools, simulations and outcome-based projects.
The dual Bachelor of Science/Masters of Business Administration (4+1) program is an option for especially well qualified students. This special program makes it possible to earn both the Bachelor of Science and Master of Business Administration degrees in less time than normally would be required to complete both. This option is available for students in the undergraduate Accounting, Business Administration and Information Technology programs. Interested students should contact their undergraduate department chair or academic advisor no later than the sophomore year for information. Typically, students take one graduate level MBA course during the fall and spring of their senior year. Students then have their Bachelor of Science degrees conferred upon completion of all undergraduate degree requirements. Students seamlessly matriculate into the graduate degree the following semester. Upon completion of 30 additional MBA credits, students will have their Master of Business Administration degree conferred.
Industry Certifications
Students who have achieved industry certifications may be awarded credit for certain IT courses. Please work with your advisor.
CompTIA Network+ = CSIT 223 - Introduction to Networking Systems
CompTIA A+ Hardware = CSIT 225 - PC Architecture and System Design
CompTIA A+ Windows = CSIT 226 - PC Operating Systems
CompTIA Linux+ = CSIT 229 - Introduction to GNU/LINUX
CHFI (Computer Hacking Forensic Investigator)  = CSIT 250 - Cyber Crime
CompTIA Security+ = CSIT 255 - Information Assurance
WCNA (Wireshark Certified Network Analyst) = CSIT 275 - Wireshark Network Analysis
Cisco CCNA = CSIT 420 - Advanced Networking SystemsCompTIA CySA+ (Cybersecurity Analyst)    =CSIT 364 - Incident Handling