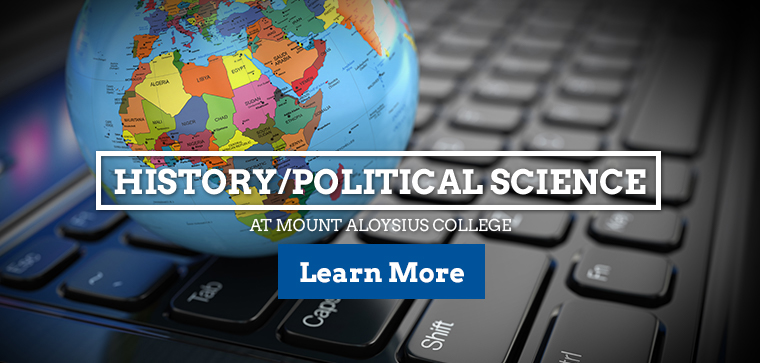 Department Chairperson - Dr. Joseph Bobak
The program in History/Political Science seeks to enhance the personal lives, professional competencies and commitment to lifelong learning of students whether they study history/political science as majors, minors, or through the general education program. The disciplines of history and political science are an integral part of the liberal arts. They can, with the other liberal disciplines, produce a liberally educated person who values knowledge and has the capacity to acquire knowledge, to think critically, and to apply the mature judgment required of a free and responsible citizen in a democratic society.
Specifically, the program of History/Political Science seeks to bring students, through a study of the past and the present, to an understanding of the society of which they are members and the forces which mold its institutions. In a broader sense, it aims at helping students discover where their generation fits in time and in the development of the human race, and from their study of the experience of humanity to come to an appreciation of what is of value for their society and therefore to be preserved.
The goals of this program in History/Political Science contribute to the College's curricular purpose by enabling students to perceive the larger social, political, economic, historical, and environmental contexts within which individual action is set. Knowledge of the dynamic processes underlying these contexts will lead students to identify those points in their individual lives and careers where they can contribute responsibly to life in an interdependent world.
Students who complete the major in History/Political Science will demonstrate:
Historical/Political Literacy - Students will be able to distinguish between primary and secondary sources and explain how each is used to make or support a claim;
Critical Thinking -Students will be able to articulate how questions can be viewed from different perspectives and evaluate competing interpretations that arise from these perspectives;
Research Skills - Students will acquire basic historical and political science research skills, including finding relevant primary and secondary resources through the effective use of libraries, archives, databases and online materials and accurately interpret and document these materials;
Communication Skills - Students will learn to organize and express their thoughts clearly and coherently both in writing and orally; and
Documentation & Presentation - Students should demonstrate their mastery of the knowledge and skills involved in professional practice by documenting and evaluating arguments in a professional manner culminating in conceptualizing and executing a significant piece of original research.