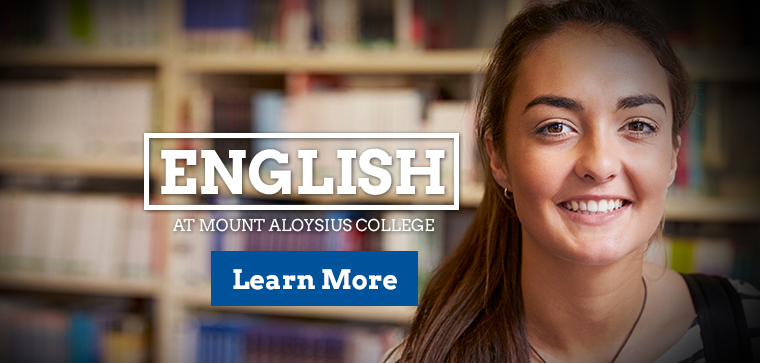 Department Chairperson - Dr. Jessica Jost-Costanzo
The Bachelor of Arts degree in English is designed to give students an excellent background in the arts and sciences while helping them become sophisticated "producers" and "consumers" of texts, both written and spoken. In other words, the English major promotes the ability to bring critical thinking skills to bear in speaking, writing, listening, and reading.
Additionally, the program fosters a view of literature as what critic Kenneth Burke calls "equipment for living." Burke suggests that in exploring literary works, readers are "trying on" the perspectives of different writers and characters. Such activities can help readers develop a capacity for empathy - particularly in examining the work of marginalized groups - as well as a store of strategies to employ in the readers' own encounters with the world.
Finally, through their development of sensitivity to matters of literary art, students open themselves to what Marshall Gregory calls "art's dimension of mystery… the suggestiveness, emotiveness, and inexhaustible power that language can acquire when it is used as art." The ability to avail themselves of that power enriches English majors as they explore the wide variety of career paths open to them.
Students may major in English, in English with a Theatre concentration, or in English with a Secondary Education Certification. The course requirements for both are listed below. (See also the Elementary Education/English  description found elsewhere in this Catalog.) Students who already have associate degrees in business, education, health, technical or other areas should work with an advisor from the English department to design a course sequence that will help them meet their specific goals.
The general college admission criteria apply to students pursuing a bachelor's degree in English. Additionally, admission to the English program is contingent upon either satisfactory performance on an essay examination administered by the faculty of the English department or the achievement of a grade of "B+" or better in ENGL 110 .
Program Outcomes
Upon completion of the program, graduates will earn a Bachelor of Arts degree with a major in English and will be able to:
use the English language clearly and appropriately as speakers in given contexts;
use the English language clearly and appropriately as writers in given contexts;
read, write, speak, and listen with discrimination and defensible judgment;
employ such cognitive skills as reading, listening, analysis, synthesis, evaluation, writing, and speaking in situations which call for critical thinking and creation of sound arguments;
use technology in the effective presentation of material;
discuss a broad spectrum of literary works, cultures, and historical periods.