---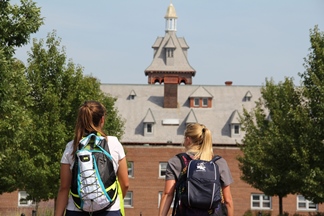 Cresson, PA 16630-1999 (814) 886-4131 www.mtaloy.edu
an accredited Catholic, co-educational, private college
enrollment approximately 1,300 full-time students, male and female, residents and commuters; approximately 1200 part-time undergraduate, graduate, continuing education and dual enrollment students
sponsored by the Religious Sisters of Mercy
career and liberal arts education
193-acre campus
Accreditations
ACEN: Accreditation Commission for Education in Nursing
CAAHEP: Commission on Accreditation of Allied Health Education Programs
CAAHEP accredits the following programs:
Medical Assistant
Medical Imaging and Radiation Sciences - Ultrasonography
Surgical Technologist
CAPTE: Commission on Accreditation in Physical Therapy Education
CCIE: Commission on Collegiate Interpreter Education
MSCHE: Middle States Commission on Higher Education
NAACLS: National Accrediting Agency for Clinical Laboratory Sciences
NAACLS accredits the Medical Laboratory Technician program
Special Academic Features
academic skills center
low student to faculty ratio
educational enrichment
personalized advisement

foundational courses in the freshman, sophomore, and junior years
small classes
honors program
Tuition
Full-time Students (12-18 credit hours per semester)
Nursing
$11,810
Biology, General Science, Health/Science, Medical Imaging/Radiation Sciences, Medical Laboratory Technician, Physical Therapist Assistant
$11,370
Arts, Business, Humanities, Medical Assistant, Surgical Technology, and all other programs
$10,355
Part-Time Students - per credit
 
 
Undergraduate Nursing
$800
 
Undergraduate Health Studies
$785
 
All Other Undergraduate
$770
 
Graduate
$750
NCAA Division III Athletics Program
baseball
men's and women's basketball
men's and women's cross-country
men's and women's golf
men's and women's soccer

men's and women's tennis
softball
women's volleyball
women's bowling
Student Life
dances, comedians, and speakers
full network of student clubs and organizations
campus ministry
comfortable, safe residence halls
professional food service

indoor courts, weight room
local points of interest include:
downhill and cross-country ski areas, state
parks, golf courses, shopping malls and historical
sites
Programs of Study - Undergraduate
While preparing students for careers or advanced study, Mount Aloysius College recognizes the importance of a broad liberal arts education. Thus, in addition to solid preparation for a chosen career, every student at Mount Aloysius is provided a liberal arts education. The College's distributive core of courses ensures that every Mount Aloysius student has a basic body of knowledge in preparation either for a career or for further education.
NOTE: Although the academic programs and courses represent available areas of study at Mount Aloysius College, the College reserves the right to withdraw any course or curriculum at any time. Transportation to and from practicum sites must be provided by students.
Cooperative Programs
Mount Aloysius College provides cooperative programs which were implemented to augment and enhance student-learning opportunities. These cooperative programs typically provide a bachelor degree from Mount Aloysius and a graduate degree or certificate from the cooperating college or university. Consultation with the Department Chair is required of all students. Agreements can change annually.
Business Administration/MBA or MS
Chiropractic
Early Entrance Agreements with Lake Erie College of Osteopathic Medicine (LECOM)

Doctor of Pharmacy
Doctor of Osteopathic Medicine
Doctor of Dental Medicine

Occupational Therapy
Doctor of Physical Therapy
Physician Assistant
History
The history of the College is rooted in the life of the Religious Sisters of Mercy who founded and sponsor Mount Aloysius College. Catherine McAuley founded the Religious Sisters of Mercy in Dublin, Ireland, in 1831 as a congregation devoted to the works of Mercy. It was one of the first active congregations of women religious in Ireland. Today, Sisters of Mercy serve in North and South America, Africa, Asia and Australia continuing their original charism of service to the needy through advocacy and direct service in health care, educational and social service agencies and institutions. The spirit of the congregation, dedicated to honoring the mercy of God, is one of enterprising response to need, coupled with compassion and hospitality, a spirit which is a goal of the Mount Aloysius family.
Mount Aloysius College traces its Mercy heritage to the small community of Sisters who were sent to Pittsburgh in 1843. From Pittsburgh, they established a community in Chicago in 1845 and by 1848 they settled in nearby Loretto. On St. Mary's Street in Loretto, the Sisters built a school, which was to be the forerunner of St. Aloysius Academy. The Academy, built in 1853, was moved to its present site in 1897. In 1939, Mount Aloysius Junior College was founded through the initiative of Sister M. deSales Farley, R.S.M. In 1991, Mount Aloysius amended its charter and scope of programs to include bachelor degrees. In the Spring of 2000, the College's charter was again amended to include master degrees.
Mission Statement
The Mission of Mount Aloysius College is to respond to individual and community needs with quality programs of education in the tradition of the Religious Sisters of Mercy. Each student will have the opportunity to acquire knowledge and to develop values, attitudes, and competencies necessary for life long learning within an environment which reflects a liberal arts orientation and a Catholic, Judeo-Christian heritage.
Philosophy
As a Catholic College founded and sponsored by the Religious Sisters of Mercy, Mount Aloysius College provides a setting in which students are encouraged to synthesize faith with learning, to develop competence with compassion, to put talents and gifts at the service of others, and to begin to assume leadership in the world community. With emphasis on values of justice, hospitality, mercy, and service, the College's liberal arts core curriculum provides the necessary basis for leadership and the knowledge and skills for success in a wide range of professions. While the academic focus is paramount at Mount Aloysius, the College also considers spiritual, cultural, social and personal growth as essential elements in the development of the student.
Encouraging all students to explore their religious heritages, Mount Aloysius College welcomes women and men of all creeds, races, nationalities and ages who wish to participate in the life of the campus community. Through course work, religious activities, and service, all students are challenged to grow in faith and to fully engage in their intellectual growth and personal religious commitment.
Committed to making available a student-centered education, Mount Aloysius tailors its academic and co-curricular programs to meet the developmental needs of each student. Welcoming students with a range of abilities and economic resources, the faculty and staff work to enable each student to reach his or her fullest potential. Academic advising, direct contact with faculty and staff, personal counseling, and educational enrichment courses are resources provided to students throughout their college careers. Students are also encouraged to participate in extracurricular activities that include student government and other student organizations, athletics, theatre, and other social and service programs.
Mount Aloysius College strives to be a just and caring learning community where hospitality and compassionate service are hallmarks. Building on its early history as a women's college, Mount Aloysius continues to have a particular interest in the education and advancement of women even as it has made the commitment to co-educational offerings in all programs. The College is firm in its commitment to creating an environment for living and learning in the hope of supporting the lifelong intellectual, spiritual, and emotional development of every student who experiences the unique and exceptional Mount Aloysius College education.